BBA Chair Honoured by Cardiff University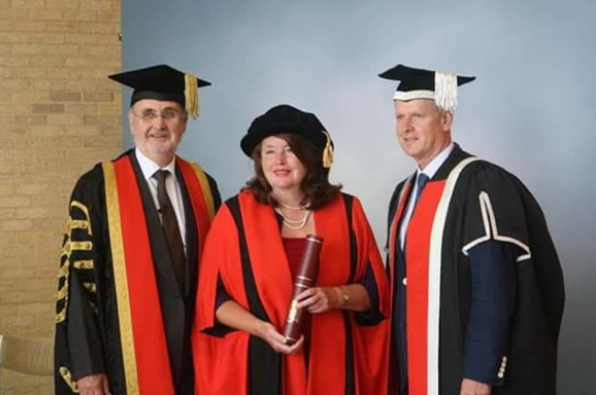 On the 17th July, Governing Board Chair of the BBA, Valerie Owen (MBE) was elected for an Honorary Fellowship by the Council of Cardiff University.
The Honorary Fellowship was awarded for 'Services to Valerie Owen AwardArchitecture' in recognition of Valerie's long and distinguished career, during which she has held numerous non-executive and Ministerial appointments, involving her in some of the largest and most complex development projects procured by the public sector in recent years.
Following the ceremony Claire Curtis-Thomas, CEO of the BBA said: 'I am delighted with the outstanding achievements of our Chair and know that she will continue to be the respected and lauded figure in the architectural field, helping to break boundaries and engender trust'.
Valerie who was appointed Chair for the BBA in February 2016, is a multi-disciplinary property professional with membership at RIBA, RTPI, RICS and CIArb to name but a few. As an expert in economic and sustainable development, Valerie is a co-founding director of Le Vaillant Owen Consultancy, an innovative company specialising in sustainable development and community regeneration established in 2004.
Commenting on her recent achievement, Valerie said: 'I trained at the Welsh School of Architecture and was thrilled to receive this Fellowship. I hope that, in some small way, the honour will help promote the BBA's excellent brand and reputation even further.'
The Honorary Fellowship mirrors the BBA's own beliefs of best practice within the industry and we look forward to seeing what other exceptional things Valerie will achieve in the future within construction.