Alliance Remedial Supplies Ltd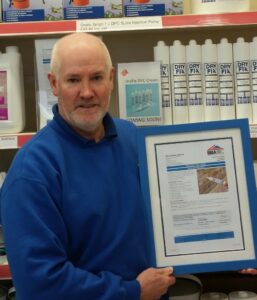 Executive Summary
A small business with big ideas. More than just a builders merchants, Alliance Remedial Supplies Ltd's ethos is to offer not only great products, but also quality technical information and specialist support.
About Alliance Remedial Supplies Ltd
Established in 2011, Alliance Remedial Supplies Ltd is a specialist remedial builders merchants for the supply of building preservation, restoration and repair materials. Keen to differentiate their business the decision to develop an own-brand damp-proofing injection cream was made, and to demonstrate the product's credibility and suitability it was put through a rigorous BBA assessment. BBA Agrément Certificate 16/5313 was gained in 2016.
About the Product
DryFix Injection Cream is a concentrated silane/siloxane emulsion cream for insertion into mortar courses to form a remedial damp-proof course (also known as DPC) in existing walls, and the associated replastering.
DryFix – Alliance Remedial Supplies Ltd
Challenges
Whilst the provision of second-to-none customer service and sound advice continued to grow the business, Alliance Remedial Supplies Ltd wanted to go one step further and introduce its own-brand chemical DPC. It was recognised that, as an independent distributor and builders merchants, to expect any success the own-brand product needed BBA certification, a process that took approximately two years.
Chris Reynolds, Alliance Remedial Supplies Ltd
The Results
A contract with a very large distributor was secured for the BBA approved product.
Working with the BBA
The manufacturer of the patented chemical DPC recommended the BBA, and with continued support and contact from the BBA the team at Alliance Remedial Supplies Ltd were able to move forward the own-brand chemical DPC development, which is a big deal to the future of the organisation in the remedial industry.
The BBA continue to provide after care support and assistance with PR and marketing of the BBA Agrément certification.
How Agrément Certification has helped
The BBA offers the best recognised certification among remedial specialists and architects within the remedial industry in the UK. Chris Reynolds of Alliance Remedial Supplies Ltd commented:
"The kudos associated with having the BBA endorse a product for its suitability is recognised throughout the construction industry."