INDUSTRY VOICES: Preventing Thermal Bridging and Mould Growth
Preventing heat loss from dwellings as a result of thermal bridges at balconies and other cantilever connections is a critical design consideration. However, preventing condensation and mould growth is an equally important factor.
The BBA has partnered with Schöck UK to discuss how we can minimise energy use in buildings and thereby improving the thermal performance of building envelopes has become increasingly important in the drive for sustainability and energy efficiency.
Find out more about how specifiers, architects and contractors can on avoid thermal bridging in the latest instalment of Industry Voices.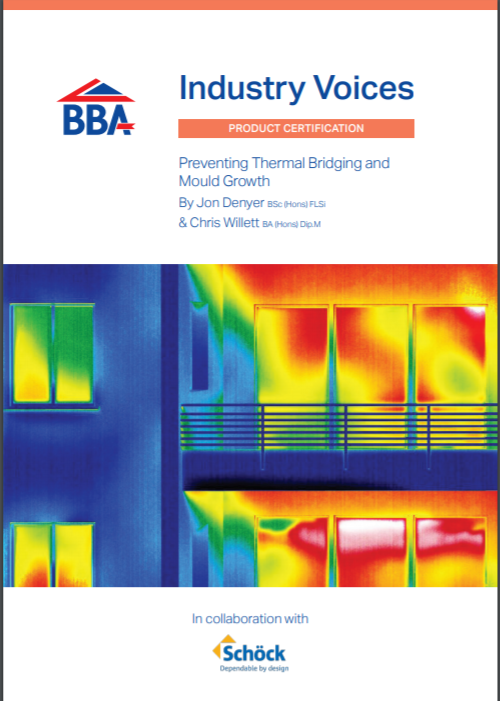 Meet the authors
Jon Denyer BSs (Hons) FLSi
Jon Denyar is a physicist with over 30 years' experience in the assessment and evaluation of construction products and systems and their compliance with national building regulations, in particular, thermal insulation products and systems. He is active in a number of UK and European standardisation committees responsible for specification and design standards in the area of thermal and hygrothermal performance of construction products, systems and buildings. Currently part of the BBA's Technical Excellence Team the UK's leading Certification body for construction products and systems, he is engaged in developing technical excellence across the company and supporting technical decisions.
Chris Willett BA (Hons) Dip.M.
Managing Director at Schöck Ltd. A graduate from Nottingham Trent University, Chris started his career at Allied Steel & Wire. Opportunities within the group led to him becoming European Sales Manager at Macalloy and, following a successful MBO, Sales Director at the age of 34. In the ensuing years, the business expanded across 40 countries and was awarded the Queen's Award for Export. In 2013 Chris was appointed as MD of Schöck Ltd and today, additionally holds several international managerial positions within the organisation.