TECHNICAL CASE STUDY: Resistance to Wind Load
Within the current build environment, it is essential that we assess External Wall Insulation Systems (EWIS), in particular, focusing on their ability to resist wind load and prevent installation failures.Although the thermal performance is the more important feature for users when considering to install EWIS in new or existing buildings, it should be stated that the structural stability of the system shouldn't be overlooked.
With the growing market for EWIS, the BBA is working with the UK construction industry to improve its design, detailing and installation, including the specification of ancillary components, pre-installation procedures, the quality of work on site, and site surveys. Furthermore, we are also working alongside suppliers, installers and consumers to offer guidance and support on EWIS behaviours that might lead to unintended consequences from poor fittings.
Read our latest Technical Case Study, which examines the potential issues and unintended consequences of EWIS design concerning wind-load resistance.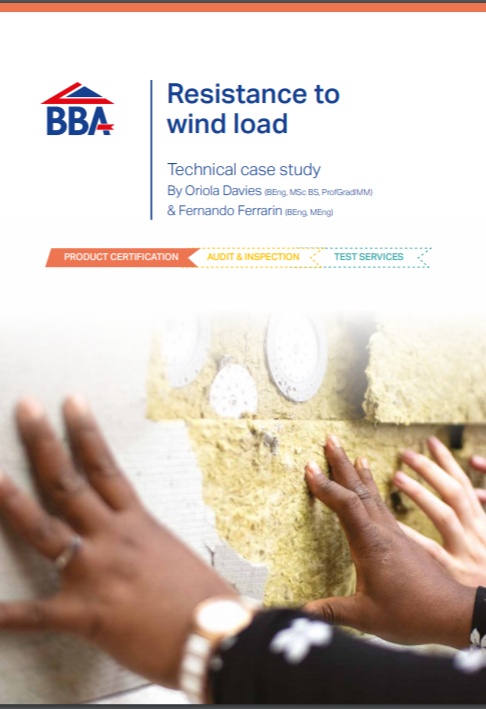 Meet the Authors
Oriola Davies and Fernando Ferrarin
Oriola Davies BEng, MSc BS, ProfGradIMM
Oriola is a qualified and experienced Mechanical Engineer (BEng) who joined the BBA in 2008 as a technical trainee in the Construction products unit of our Certification department, and since grown in her role to become Team Manager for the External Wall Insulation Systems (EWIS) team and is a BBA identified Technical Expert. Oriola is an active member of the EOTA/ETICS working group and has considerable knowledge in construction product certification.
Fernando Ferrarin BEng, MEng
Fernando is a qualified Civil Engineer with a Master's degree in Civil and Urban Engineering. He worked as a Site Engineer and Quality and Sustainability manager before joining the BBA in 2017 as a Project Manager in the Engineering unit of our Certification department. He brings with him professional expertise in quality and sustainability certification and experience working in consultancies across America and Europe.