HAPAS approval turns Weholite structures back into pipes.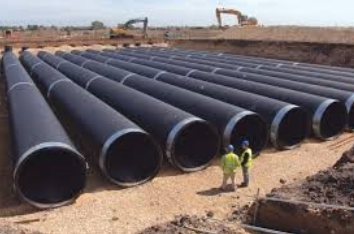 A complex and technically demanding collaboration between Highways England, the British Board of Agrément and the British Plastics Federation has delivered the first-ever HAPAS certification for plastic pipe drainage systems up to a massive 3500mm diameter.
The certification of Asset International's HDPE Weholite solutions from 1000mm to 3500mm is an industry first, opening up the market for projects to benefit from extra large capacity, light weight surface and sub-surface drainage/attenuation solutions.
Achieving the BBA's Highway Authorities' Product Approval Scheme (HAPAS) certification is the culmination of several years' in-depth technical discussions and work between the various organisations and Asset International, as BBA Project Manager Calai Vidjeane explained: "Previously plastic pipes with an internal diameter of more than 900mm intended for installation beneath a road had been classified as 'structures' rather than pipes, limiting their scope of application. Asset International wanted to address this by achieving HAPAS approval for these larger systems but it had never been done before – there is no official technical standard for their use in highway applications.
"We therefore had to formulate and agree an assessment/test methodology with Highways England in order for the products to be fully evaluated. It was a challenging and technically demanding project that has created new opportunities for Weholite," said Calai, a chartered civil engineer.
Her comments were echoed by Asset International Technical Director Vasilios Samaras, who said the HAPAS certificate opened a 'huge market' for the business in under-road attenuation solutions. "HAPAS is very well respected in the industry and this gives confidence to our clients and status to our products," he said. "It was a complex process with a number of parties involved. We were very impressed with the BBA, which moved the process forward quickly."
Asset International is now the first manufacturer of HDPE structured wall polyethylene systems of 900mm-plus to achieve HAPAS approval. Vasilios added: "This is an incredible accomplishment and the culmination of what has been a long and arduous road. It would not have been possible without the help and assistance of the British Plastics Federation and the British Board of Agrément, which have worked extremely hard in helping us to achieve this success.
"Our experience has shown that larger diameter plastic pipes and systems can provide better performance and offer a range of added benefits. Weholite pipes and structures are extremely tough, flexible, and chemically resistant, with a design life in excess of 120 years. Their superior loading capacity means they are ideally placed for use in highways and are more than capable of withstanding the extreme loading conditions placed upon them in these applications."
Weholite attenuation and surface water products are intended for highways carrier drainage and drainage structures (open-ended and offline/online attenuation structures for surface and fluvial water). The HAPAS Certificate (18/H283) applies to 1000mm to 3500mm diameter pipes plus fittings. Key factors assessed by the BBA were:
* Strength – adequate strength to resist the loads associated with installation and service
* Joint performance – the fusion welded joints will remain watertight under normal service conditions
* Flow characteristics – equivalent to thermoplastic pipes
* Maintenance – can be cleaned using standard techniques
* Durability – have a service life in excess of 100 years
As well as testing Weholite products at its headquarters in Watford, BBA experts witnessed testing at Asset International's manufacturing base in Newport, South Wales, and attended site to asses an installation. As required by the certificate, the BBA will conduct regular surveillance of Weholite production facilities and carry out formal three-yearly reviews to ensure compliance with certificate conditions.
The BBA certificate states: "In the opinion of the BBA, Weholite Pipes from 1000mm to 3500mm internal diameter and fittings when used in accordance with the provision of this certificate, will meet or contribute to meeting the requirements of Highways England for the design and construction of surface water drainage."
BBA spokesman Eleni Karakasi, Team Manager – Engineering said: "This HAPAS certification is a really good example of how we work closely with our clients to solve problems, in this case also liaising with Highways England to agree on a test and assessment methodology against which the Weholite product should be measured and then successfully putting that methodology into practice. HAPAS approval has given Weholite a competitive advantage and significantly improved specification choices for designers of attenuation solutions. We are delighted to have been involved in this really successful project."
The BBA HAPAS scheme was established in 1998 to provide a nationally recognised approval scheme for innovative products and systems used in highways works and construction. Since then HAPAS Certificates and reports have provided highways engineers with invaluable data on product performance, design and installation information. The scheme covers a range of products including high friction surfacing, thin surfacing, crack repair systems, patch repair systems and manhole reinstatement systems.