BBA hosts EU building experts for digitisation & ETICS workshops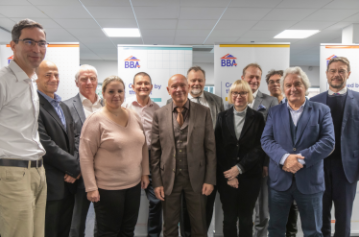 Rigorous BIM implementation across Europe and new assessment frameworks for external wall insulation were topics in the spotlight when more than a dozen pan-European building experts met in Liverpool recently.
The technical heads, each representing member countries of the UEAtc (European Union for technical approval in construction) were hosted by the British Board of Agrement (BBA) for the four-day event, which aimed to share knowledge and discuss ways of improving building design, safety and performance.
Rolling out BIM across Europe and digitalising building product certification data was a focus of the event, with discussions exploring the possibilities of embedding certification data into Level 2 BIM modelling and enabling it to work with digital twins. This would push intelligent reporting, which already exists within BIM, a step further, improving the platform's ability to flag up, for example, product clashes and ensure total compliance for building designers.
"Although this concept is embryonic at the moment and there are challenges to overcome, it was useful to find out where our European partners sit in the debate, the progress being made in their home countries and how we can work together to move the conversation forward," said Wendy Ajuwon, BBA Head of Marketing. "The construction industry is increasingly turning to digitalization to solve issues – the BBA recently held a roundtable event with the Westminster Sustainable Business Forum to discuss this topic – and it is therefore really important to consider the role building product certification has to play within the digital chain of custody across Europe. It is also a very pertinent debate that looks to support the Hackitt Report's 'golden thread' of quality building information."
The BBA is the UK representative of UEAtc, a network of institutes within Europe and neighbouring countries developing and maintaining voluntary technical approval processes to support innovation in the construction industry.
The UEAtc is also working to address issues within the external wall insulation (EWI) industry (known as ETICS within mainland Europe) and how a new assessment framework may be developed. The meeting heard that while European Technical Assessments have been issued on the basis of ETA-Guideline 004 and a draft European product standard for ETICS is in progress, many UEAtc members continue to issue country-specific technical approvals which may differ from one other. In some markets initiatives have been taken to specify how ETICS should be installed and the European Federation of ETICS manufacturers has issued guidance on this. Nevertheless, problems continue to occur, installation techniques differ and a potential lack of design knowledge has been identified. These issues were discussed during the Liverpool conference, with the BBA presenting the UK's approach to the safety of ETICS systems in relation to resistance under lateral and dead load and fire performance. UBAtc, Belgian's technical approval authority, discussed how the systems respond to wind resistance.
"The discussions, on both digitalisation and ETICS, were really productive and allowed a large amount of positive information to be shared," added Wendy. "It was very clear that many of the issues we discuss in the UK are also being raised across Europe and further afield, making involvement with technical bodies such as the UEAtc absolutely vital for the UK construction industry to communicate knowledge and best practice."