SureSet Building competence and
accountability through 3rd party testing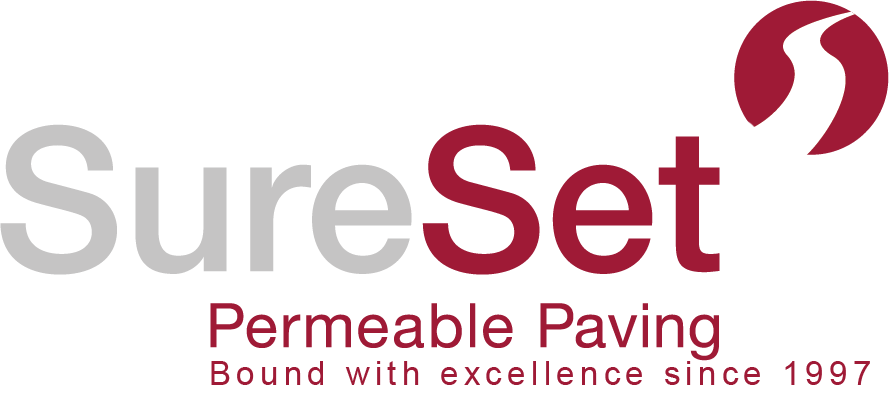 Since 1997 SureSet has been committed to providing consistently high-quality products, alongside an excellent installation service, backed by their 21-year guarantee. With changing regulations and safety standards, new innovations required a greater focus on safety by mitigating risks, and with the BBA's help and guidance, SureSet achieved a BBA Agrément Certification, a mark of excellence, based on rigorous testing and certification against National and European standards.
SureSet pride themselves in maintaining the highest level of customer service, building rapport, offering technical support and after-care. Continuously innovating and developing, they strive to meet and exceed expectations. Their premium clear resin and quality aggregates, aim to provide the highest quality resin bound paving that is permeable, durable, UV stable, smooth, accessible and easy to maintain.
The History of SureSet:
SureSet's company originators Peter Watts, Kevin Weston and Michael Newton come from a quarry background and throughout their careers, have experimented heavily with clear resins and aggregates.
They had spent years trying to overcome the various technical difficulties associated with manufacturing hot laid clear bindered macadams and, over time, they developed a better way of achieving a range of high quality, consistent and durable products for a market that existed (the European market had already tried) but had yet, in their opinion, to prove its worth. Using their knowledge of asphalt surfacing and aggregates, the originators created the technology, products and investment to set up SureSet.
"I knew that there was a market for a cheap resin/oil bound material with limited durability, because it already existed and the only way to be certain that there was a demand for a better quality product, was to set up in business and find out! The real shock for me, was finding out just how hard it was to actually find customers, so many people seem content to make do with buying on price, rather than value for money!" Peter Watts – Chairman
About the Product:
SureSet, is a resin bound aggregate surfacing system, primarily used as a surface course in hard landscaping for lightly trafficked car-parks, low speed access roads as well as lightly trafficked areas – tree surrounds, public pathways and residential driveways.
SureSet resin bound is a popular choice for hard landscaping. The choice of Natural Aggregate colours and its aesthetically pleasing benefits including a UV stable resin, permeability and guarantee for 21 years, are important parts of a product for manufacturers to achieve, as it ensures acceptance with specifiers, building control, Local Authorities and landscape architects.
With BBA Agrément Certification, SureSet can continue to feel confident in assuring their clients that their products represent a valued sign of quality, safety and reliability within the resin bound industry.
Market Differentiation:
In the early 90's block paving and asphalt were popular, but a market for colorful paving (opposed to black tarmacadam) that was easy to maintain and durable was on the rise. The permeability aspect of the product came in demand later in 2011 when an approach to water management was introduced to manage flood risk and water quality.
With the much needed growing awareness and focus on environmentally friendly products and processes in order to help sustain a bright future, their Research and Development Teams are focused on achieving this, and are in the process of innovating a plastic reducing resin pump.
The process:
With new competition entering the market, SureSet knew they had to strategically use their extensive insight of industry and product knowledge to their advantage. Investing in a BBA Agrément certificate meant that they could strengthen the worth of their technical experience and high-quality products, from an impartial third-party organisation, to carry out numerous sets of stringent testing and evidence of processes, followed by product certification.
Beyond the Certification:
Gaining BBA Agrément Certification (20/5719) for SureSet, not only qualified their commitment to expected standards in the industry, but also enabled them to set the bar for all quality resin bound products and installations across the construction industry.
The market continues to grow, and the use of resin bound paving from suppliers to manufactures increases. SureSet utilises BBA Agrément Certification to assure clients that their products are of a high standard and quality.
Working in Partnership with the BBA:
SureSet pride themselves in working in partnership across the industry. They believe in the power of building good relationships with customers, partners. Working with the BBA demonstrates compliance with industry regulations, and echoes the sentiment to work in collaboration with organisations throughout the industry that is focussed on quality, credibility and safety.
"A BBA collaboration to SureSet is a valued sign of quality, safety and reliability within the resin bound industry"
Much like many other product sectors, resin bound products have scratched the surface of a very, large market to date, and innovation will never stop. Being approved by the BBA reinforces the industry's faith  in the SureSet resin system.
Certificate Number: 20/5719
To find out more about SureSet, visit their website here: www.sureset.co.uk
Or view the their social channels below: