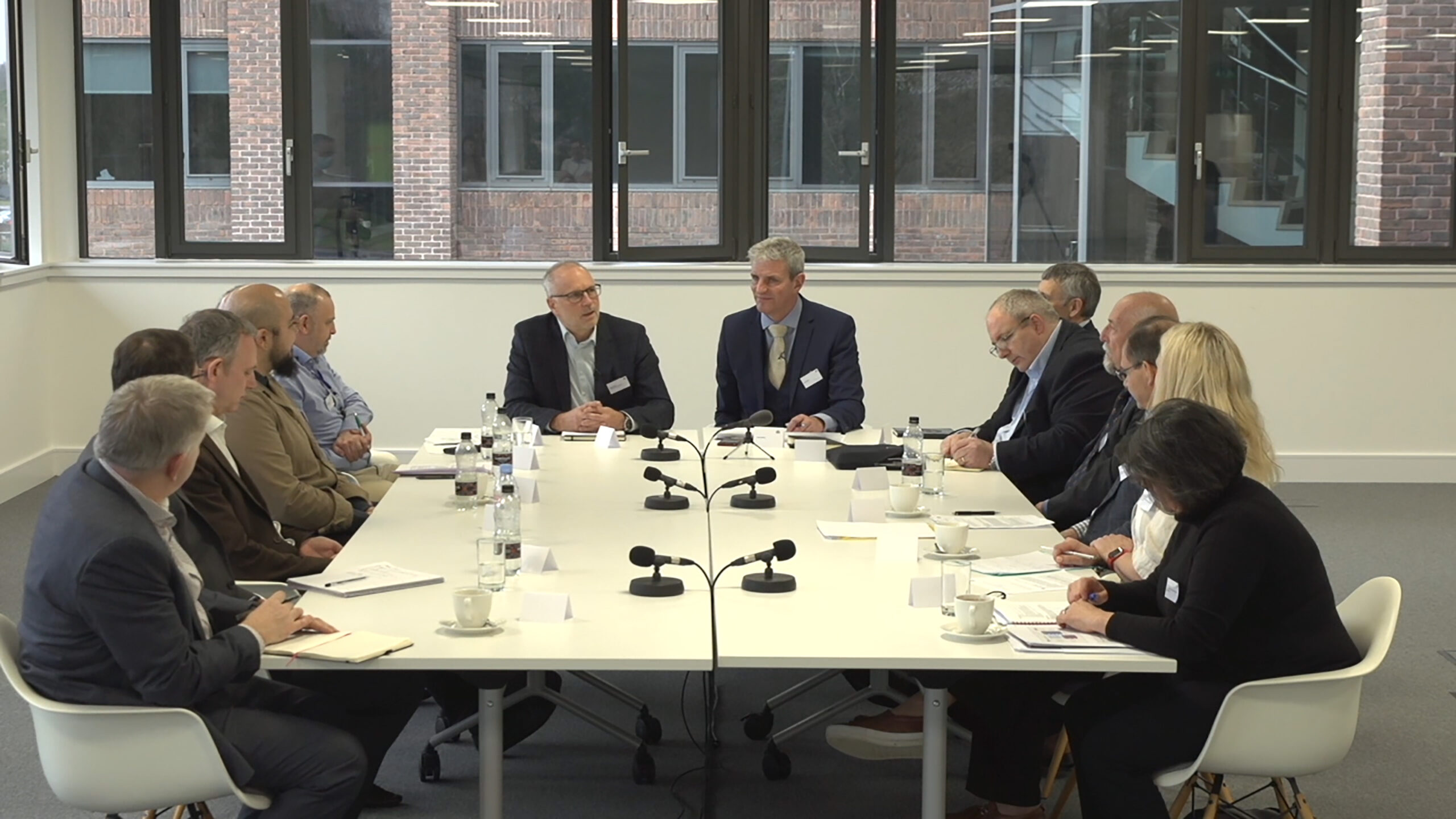 Industry voices say change has
to start now.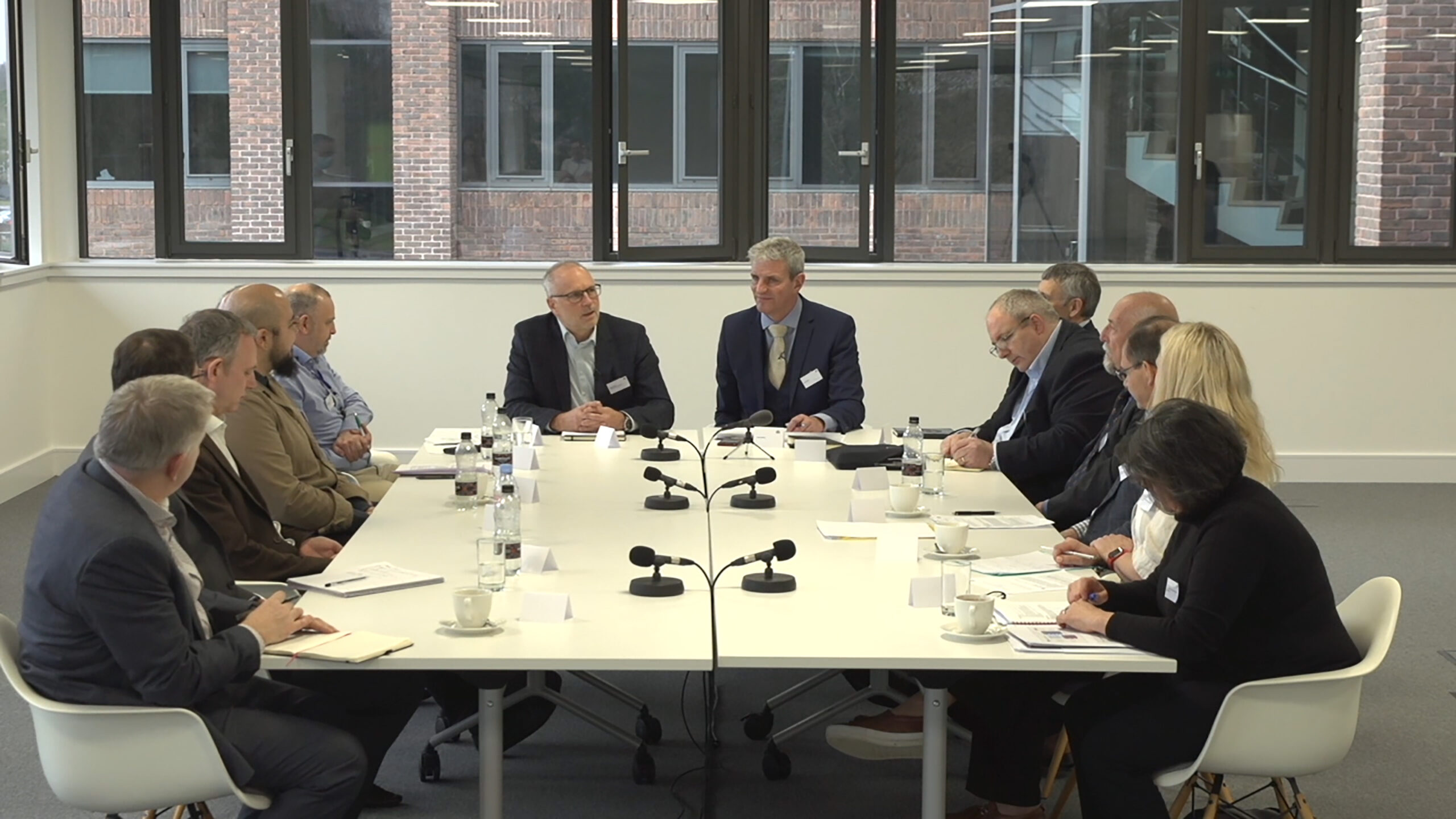 The BBA hosted its first Roundtable discussion at Croxley Park in March with a number of industry voices focusing on data, digitisation, innovation, testing, trends and industry challenges.
Those topics, among others, were unpacked by some of the key industry decision-makers and influencers who explored the role the industry has to play in the short and longer term.
The BBA was represented by Chief Executive Officer, Hardy Giesler and Technical Director, Bill Hewlett who offered their views as well as insight into the BBA's own ambitions in the event which was chaired by Neil Griffiths.
Joining them were representatives with expertise across a range of backgrounds.
John Leake, Business Growth Director, SciTech

Jonathan Williams, CEO, Xerini

Amanda Long, Chief Executive, CCPI

Simon Ayers, CEO, TrustMark

Lee Lambley, Technical Director, Weber

James Biggs, Head of Technical, Berkley Homes

Ehab Sayed, Founder and Director of Innovation, Biohm

Nigel Blacklock, Technical Director, Bauder

Neil Gibbins, Lead fire safety consultant, Cross UK

Anna Scothern, Chief Executive, NHIC

Matthew Sexton, Standards Director, BMI
We've explored our key findings from the discussions which are accompanied by the relevant video clips so you can hear the conversations in full.
Part 1: Innovative data drivers
There is a seismic-shift in demand from the industry, being driven by a timeline of change being set for us, to which we have to respond, together.
The need for familiarity with data and digitisation which includes digital twins and the use of Iot, with the remit for added transparency and accountability, and accuracy.
Part 2: Future Product Development and the role of testing and certification
Construction is quickly waking up to the fact that they need to accelerate the innovation process. To do that, a culture of sharing knowledge, and accurately, needs to become more embedded in our ways of working. The appetite for quick data verification is becoming bigger too.
Part 3: Building on heritage of Innovation
Innovation remains at the heart of what we do but it's time that the industry removes the complexity of doing things different, focusing more on the how and less on the why.
The government's targets with retrofit, zero carbon and the amount of new build homes being delivered requires apprenticeships, innovation at school level and more. But we need to make it easier for householders too with smarter homes.
Part 4: Overcoming issues associated with Digitisation
There is a critical need for industry culture-change in the industry: The need to put building safety and the net-zero targets first, and to equip individuals in the construction space to understand and embrace new ways of working.
We need to look outside the industry to find disruptors in other sectors who are actively solving problems elsewhere, and invite them in to help our industry solve ours.
Part 5: Using product testing data to tackle industry challenge
It's time to disrupt, and it's time to be different. Effective use of data, and the implementation of systems that capture and share that data, satisfies the growing need for a more dynamic, quicker development rate from standards and regulation, to building practice and product innovation. If standards aren't meeting where they need to be, disrupt them, innovate, do something different, facilitate an easier decision-making process.
Part 6: Data trends creating industry disruption
It's time to align meeting the needs of today's challenges, with the level of skill and interconnectivity between the digital and physical worlds. The digital world and tech has advanced in the last five to 10 years and particularly with the emergence of Quantum computing. Instead of doing a test for a product collecting that data at one point, constantly collect data of that product from the production facilities and the homes in which its installed to improve the way that you accredit and standardise.