Roundtable pt 3 of 5:
skills & capabilities
through future-proofing
Competitive advantage
How can organisations future-proof themselves, creating a competitive advantage through the skills & capabilities of its workforce?
How can organisations future-proof themselves, creating a competitive advantage through the skills and capabilities of its workforce?
Speaking at the BBA's Round Table discussion, Hardy Giesler BBA Chief Executive Officer,  Richard Waterhouse BBA Non-Executive Director, Craig Smith Industry Lead / Convenor of City & Guilds, Jason Cureton Founder of Insulfix Ltd, David Johnson Technical Director of DGuage Ltd, Colin Johnson Managing Director of DGuage Ltd, Richard Smith Head of Products & Innovation of NHBC, Adam Turk Chief Executive Officer of Siderise Group Ltd, Antony Brophy Director of Business Development UK at CoBuilder and Emma Wiles BBA Sales & Marketing Director, shared their views.
Watch part 3 of 5: BBA Roundtable – Competitive advantage through future-proofing skills & capabilities
Colin Johnson: DGuage
"Technology changes very quickly, very constantly, and has a much quickly lifecycle than traditional products. Acknowledging that and ensuring the team understand that change is constant is a way to stay ahead. A sign of success of this would be if people come to you with suggestions f new ways of doing things along that journey. That's when you know the culture is right; a bottom-up approach that suggests improvements to doing things better as opposed to the traditional top-down instruction. That would be a measure of success as to how well you're tracking."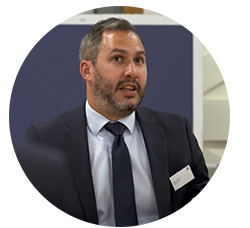 Craig Smith: City & Guilds
"For many of the newer folk coming into the industry; it's important to them that we as training providers, are giving them education to build a career. We're not just teaching them about business challenges and to work through processes of today, but giving them work-cases of problems of tomorrow so that when they get there, they know how to work through them. There's an importance of thinking about the long term skills to build a career. 
Secondly, through people's careers, there's a constant development and topping up of skills as we meander our way through changes. I also think that from the top of the organisation, building the belief that this is a good investment which may have some short-term ramifications (cost etc), but the investment is one for the future and therefore is a business imperative."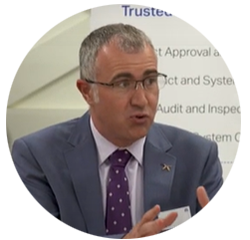 Adam Turk: Siderise Group
"For me it's really straightforward. It's all about the people. If a business wants to be successful, it needs great people. It needs to continuously develop those people and give them opportunities, training, coaching, mentoring. It also has to bring in lateral thinking. We have a policy where we try to fill half of new positions with existing people, and half of the opportunities with new people; these new people bring fresh thinking from different industries, different backgrounds, and we mix that lateral thinking with the development of the skillset and our people drive our business forward. You have to encourage your people to grow and then the business grows with them. "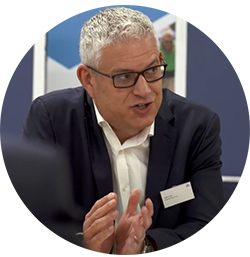 Antony Brophy: CoBuilder
"Even when dealing with data and information, people remain the most important part of future-proofing the business. The big picture thinking is about the people that you have and what they're doing today, but looking at the future and who may need to come in and fill the spot. We may be a more data-driven industry. We'll need people with different skillsets coming in. And it's about how we reach people at schools and colleges early enough to establish STEM ambassadors, and introducing them to the industry. I've spent a lot of time introducing next generation to what BIM looks like, get them involved in models, and you start to introduce data so that the interaction is in their mindset already. Getting people into the industry, and getting excited about what construction is, and being involved in what construction is becoming is what will have people start to think about building careers in construction."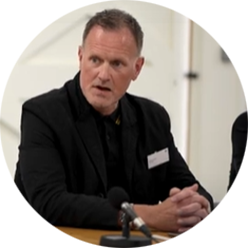 Emma Wiles: BBA
"It's people on the inside doing everything who can relate with people on the outside who will be experiencing and being part of that process; regardless of focus or sector. We've got a lot of work to do to ensure that within our sector people understand their purpose. What is the core aspect of the role or the business for this sector. Does everyone in the business understand that. From there, it's about understanding the environment around us. What's changing?
The pandemic shoed everyone that some sectors popped out of nowhere who suddenly took on new responsibilities and roles. There's a flexibility that is always needed in terms of a business understanding what their role is and what it means to the environment that we serve. We need both the internal and external perspectives to be able to measure whether we're keeping up with trends."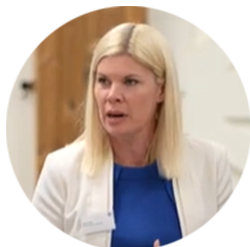 Hardy Giesler: BBA
"I think if we are looking at the industry needing a lot of change, that change will only come from great ideas within whatever organisation people operate, and a willingness and strong desire to make it happen. The BBA is very much still on a journey understanding how we get the most out of our people, and offer something that they see has a long-term benefit to their career and development. In just over a week, we will have the 5th anniversary of the Grenfell Tower tragedy where 72 people died. We, as an organisation, can certainly play an important part to ensure that that never happens again; and I think if we relate what we do in whatever small scale, to events like that, it gives people a sense of purpose".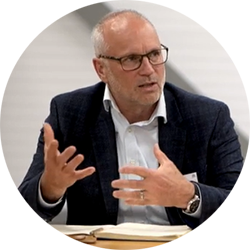 David Johnson: DGuage
"This may be slightly controversial in the sense that it's not specifically people-related. I think one of the key things is that all of us need to be aware of what is around the corner. We need a plan for what's happening in the future. Do you have the skills available to be able to look around the corner? See what's happening in other industries, that may give us a sporting chance. I've always believed that in the industry I'm in, which is largely data-driven and computer-based, that we've actually got to have a feel for what's 10 years away; which in some respects is quite a long time. Many companies don't think in those terms. My experience is that the bigger the company the smaller the timeframe in which people are thinking forward. And I think that one of the key things that we've seen coming out of the pandemic are the changes that we didn't anticipate. For me, the biggest thing was the decisions that we as a business had made to move across to a cloud-based infrastructure made a huge difference to enable our business to carry on as normal when everyone around us was packing computers into the back of their cars."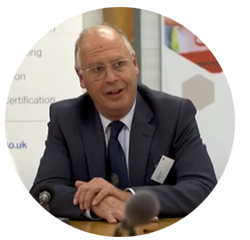 Richard Smith: NHBC
"The key factor, especially within the Warranty space that I work in, is that it's very competitive for staff to do the same thing in different companies. So, the more we invest in the staff and support them in their progression, is a critical part of developing loyalty and good people. AT NHBC, our processes are different to most surveying roles. If someone comes in from outside the organisation, we have to spend a fair bit of time developing them to get them fully-on board (it could take up to 6 months). If you bring people in and develop them over a period of time, you can build and build on that, and develop and organic structure. I think it's important; especially with the building safety acts; that there's more requirement to demonstrate competency. And I think there's a better opportunity to do that if you develop your own people."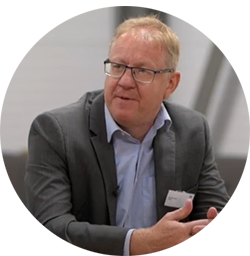 Richard Waterhouse: BBA
"The heart of what we're talking about here is People. Continuing on from Richard's point about people leaving; there's the old adage that you should develop your people so that they can leave, but treat them well so that they don't want to. It's about creating a people culture and making sure that if you are going to future-proof your organisation, meaning you know what the future is going to be (none of us do), you need to create an agile environment where people can respond to the changes that come to an organisation. The two criteria I always looked for is attitude (they want to be agile and try new things and operate in an environment where its safe to do that), and aptitude (can we impart new skills, can we help them to grow within the organisation). I love the fact, Adam, you mentioned, that at Siderise you want to fill half the positions with people within the organisation – that really is putting people at the heart of the organisation. That creates a culture for organisations to succeed. I think every organisation ought to look at achieving that. If you do that, then you put people skills and training and the heart of future-proofing your organisation."